Description
Upgrade your sleep. Upgrade your life.
This Memory Foam Pillow Comfortably Supports Your Head, Neck & Shoulders for
Uninterrupted Night-Long Slumber! 
Sleep better – much, much better
Put an end to frustrating sleepless nights 
Send your energy skyrocketing

Whether you suffer from neck pain or are just seeking a comfortable pillow that's available for an affordable price – the memory foam pillow from ORTOREX is the choice for you!
Featuring a strategic ergonomic design to help support and comfort your head, neck and shoulders this pillow is specially made to help you drift off into uninterrupted slumber each and every night.
Thanks to the memory foam, this pillow won't lose its shape! You can count on it to provide hours upon hours of support – all at a time when researchers understand better than ever the importance of getting a good night's sleep. 
In fact, NOT sleeping well can lead to a whole host of health problems, including:
Daytime fatigue

Irritability

An increased risk of being in an accident

Lower sex drive

Depression

Premature aging of skin

Forgetfulness

Weight gain

Plus an increased risk of suffering: heart disease, heart attack, heart failure, irregular heartbeat, high blood pressure, stroke and diabetes!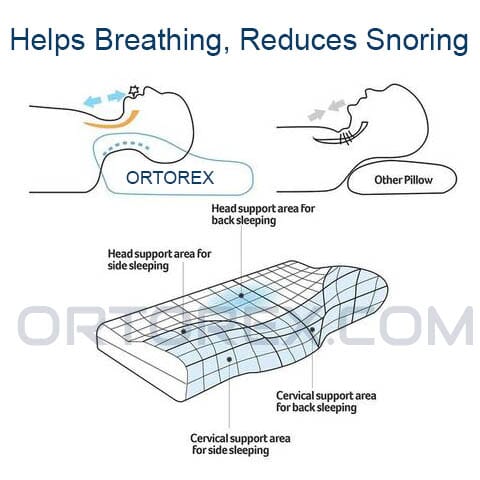 Ensure You Get the Best Rest Possible with the Memory Foam Pillow from ORTOREX!
This pillow places your head in a natural sleeping position, features indents that allow you to easily put your arm under the pillow and it supports the area of your back between your shoulder blades.
Imagine going through a day with boundless energy instead of feeling exhausted … Imagine having a much sharper mental focus due to being more well rested … Imagine being able to fall asleep as soon as your head hits this comfortable pillow …
Place Your Order Now …
Ensure You Start Waking Up Feeling
Fully Rested & Refreshed!
(And Free of Neck Pain)
30 Night Trial
You have 30 nights to fall in love with your Ortorex Pillow. Not loving it? Just contact us and we'll organise your full refund.